Hessian Fabric for Upholstery
January 13, 2017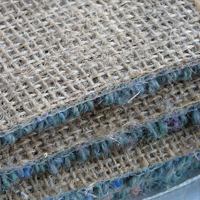 What Is Hessian Cloth?
Hessian cloth is manufactured by weaving the fibres from the skin of jute plants together. The results are a dense, durable and coarse fabric that is suitable for upholstery, rugs, bags and a variety of other uses. We will concentrate on the upholstery benefits in this information.
Hessian or Burlap Fabric Is Ideal for Structural and Decorative Upholstery Applications
Hessian cloth will hold padding firmly in place on chairs and sofas, and provide a base for the exterior coverings of the cushioning when different ones are necessary for the particular style of the furniture. In addition, this fabric is ideal for the exterior covering in country and other styles of furniture since it comes in different thicknesses.
Different Colours Are Available
For interior upholstery applications, manufacturers leave it in its natural colouring but for exterior ones they may turn to one of the different shades that are available today. You can select from natural, green and orange for just a few examples of the various colours on the market right now.
Hessian Cloth Is Printable and Easy to Paint
Another benefit of Hessian or burlap cloth is the fact that it is printable and easy to paint. As a result, you can design a variety of different patterns if necessary for your upholstery uses from your company logo to floral patterns.
With Treatment, Hessian Cloth Is Waterproof
If you require the Hessian fabric to be waterproof, you can accomplish this by laminating it or applying other coatings to it. When you make it resistant to moisture damage, the upholstery will be suitable for outdoor applications such as furniture for an alfresco area. On top of this, the waterproof coating will make the Hessian fabric stain resistant.
To purchase quality Hessian fabric for upholstery, turn to Lowinsacks. We provide this is both lengths of fabric and in sack form to fulfil your specific needs. You also can rely on us for durable calico, jute, polypropylene and pet products. Feel free to examine all of our products here on our website.
Optimized by NetwizardSEO.com.au